A high school in Rocklin is investigating after a screenshot of a controversial question that parents said was included in a history quiz was shared on social media.
A multiple-choice question found on a social science quiz, administered by a Whitney High School teacher, caused concern among parents this week.
Some parents said the question seemed political and inappropriate.
A parent posted a Screenshot of the question and the four possible answers below it, which appeared on the quiz this way:
"A group of complete idiots"
a) KKK

b) all of Florida

c) Fox News

d) Texans"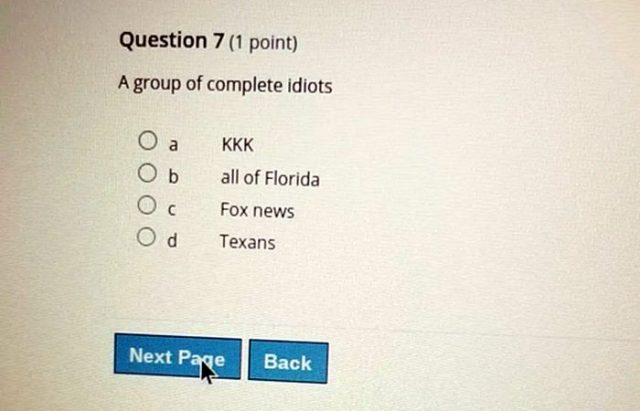 Jessa Krissovich said she posted the photo because the student and mom were worried about potential fallout if they posted the photo themselves.
"I just feel that the kids should be supported in this. We live in the United States where everyone has a different background. No one should feel bad for who they are, whether their religion or political beliefs," Jessa Krissovich said.
According to KCRA, Former students of the teacher explained that he would often "joke" about politics but sometimes took things too far.
Joel Alquicira, Whitney High School student who said he had the social science teacher in a previous year,
"I understand he's just trying to make a joke, but that kind of stuff shouldn't be on a test."

"He was always like a funny kind of teacher," Alquicira said. "He would always make jokes."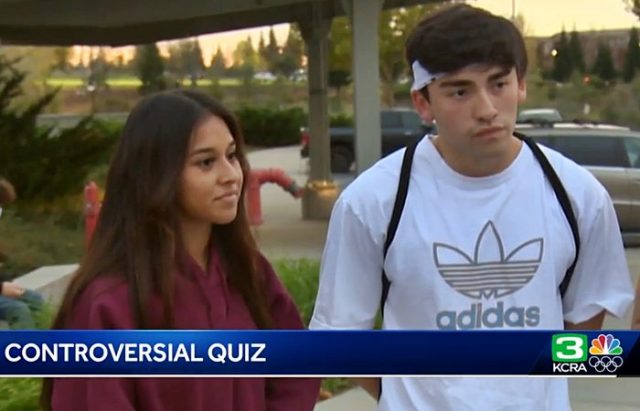 The quiz was originally given out to students on Thursday, Nov. 4.
Read more of this story from Taphaps:
Following complaints by parents, Whitney High School sent out a letter to families, explaining that they would look into the incident before making a decision. The letter acknowledged that "students, families and the Rockling community have raised concern about the class assignment" and that "the Whitney High School Administration Team and the Rocklin Unified School District recognizes and shares their concerns and is conducting a thorough investigation.
The school said that "appropriate disciplinary steps will be taken" but added that these steps would "remain confidential." The letter concluded that the school is opposed to "any campus incident that may make a group of students feels uncomfortable" and hopes that the community will be strengthened by its "shared experiences."
The dehumanization of conservatives is becoming the norm because the leftist narrative is the standard in the education system. When the curricula, teachers, and board members are mostly progressives, it's not surprising that leftist propaganda rules the schools.
Unless parents start standing up to these educators and voting out school board members, the political indoctrination in the school system will continue to grow more radical and more intolerant.