The fallen soldiers are not forgotten…What started out as a way to support the families of fallen military and law enforcement personnel reached a new high in honoring the fallen.
The Patriot Guard Riders (PGR) is an organization based in the United States whose members attend the funerals of members of the U.S. military, firefighters, and police at the invitation of a decedent's family. For military funerals, the group creates an honor guard, aids in keeping mourners safe from vandalism, and bolsters the ranks at funerals for veterans who are homeless or poor.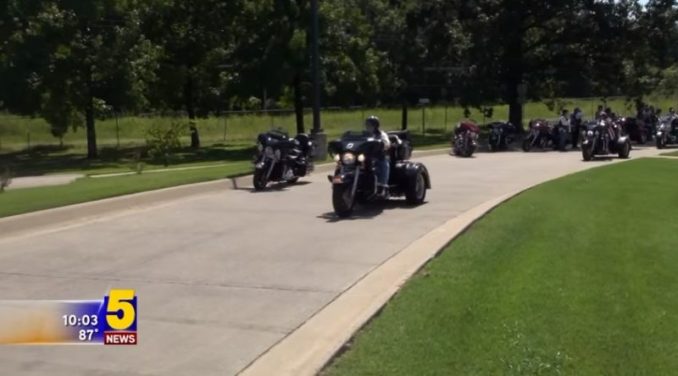 According to Wikipedia, the group does volunteer work for veteran organizations such as Veterans Homes in addition to attending funerals and welcoming home troops after deployment.
The motorcycle riders discovered that Staff Sergeant Jonathan Turner, a Marine who passed away in August 2015 from wounds sustained in battle, will be sent to his mother in Georgia via FedEx. Turner served in the Marine Corps for 17 years and deployed seven times in battle during the War on Terror.
His mother was unable to make the trip from Georgia to California for the funeral and the Marine Corps handled all of the funeral arrangements – including shipping the Staff Sergeant's ashes back home. And that didn't sit well with Patriot Guard riders, so they stepped up by creating a caravan and personally escorting SSgt Turner's remains all the way across the country. It was an operation that involved hundreds of volunteers and thousands of miles ridden.
Oklahoma Patriot Guard Riders Captain David Noble said, "We did this primarily because his mother was unable to attend the services, He had been cremated, and we did not want him to go home in a FedEx box."

"I need the family to know that you are not alone and we care," Asha Lamy said, one of the riders, went above and beyond to join the expedition and Turner's final journey.

Lamy explained, "I got on the road at 6 last night out of Huntsville, Alabama, and I rode over to Oklahoma."
According to the Patriot Guard website:
"Turner was a great leader who inspired his fellow Marines, both in the Corps and in daily life. You were his friend if you knew him for five minutes or five years. He would give you the shirt off his back."
It was proof positive that, although these bikers may look tough, they really do have hearts of gold.
Riders stopped for a brief ceremony in Staff Sgt. Johnathan Turner's memory at a rest area on Interstate 40 just across the Arkansas state line from Oklahoma after the late Marine's ashes had passed through Arizona, New Mexico, and Texas.
In the course of the ceremony, which was recorded on film, Norm Breth, Road Captain of the Patriot Guard Riders of Arkansas, said, "The Arkansas Patriot Guard Riders are proud to receive Staff Sgt. Johnathan Turner, United States Marine Corps. It will be an honor and a privilege to escort him on his journey home."

It was time to ride once more once the remains were in the Arkansas Patriot Guard Riders' safe custody, "We will do it. We will accomplish the mission, Because that is what it is. The mission is to get Staff Sgt. Turner from California to his mother's arms so that she can be at ease that he is home."
Breth said that Turner's remains were given to the Tennessee Patriot Guard later that evening. The ashes were subsequently given to the Mississippi Patriot Guard in the morning after the riders had spent the previous night in Memphis. Later that evening, Wayne Markham of the Georgia Patriot Guard Riders gave Turner's mother his remains.
These selfless bikers believe that those who serve and sacrifice their lives for our country should be treated with respect, even after they have left this world. As a result, they helped Staff Sgt. Johnathan Turner is transported to his final resting place with dignity.
Watch the video report below for more details:
Sources: Taphaps, Gtgoodtimes, Littlethings