Buying used cars is nothing out of the ordinary. It's often a cheaper, more efficient way of purchasing a vehicle, and one many people turn to.
Of course, just like a house, a car can evoke a flood of memories for the person selling it, making it difficult for them to 'let go.'
Kevin Duke had decided to buy a car for his daughter for her 16th birthday. He did his research and found a vehicle that met his specifications.
Most youngsters dream of reaching the age at which they are permitted to drive. So Jada Duke was therefore thrilled to turn 16 years old, because Kevin, her father, chose to give her the ideal gift—her own car.
He chose the one he felt would be most compatible with his daughter. Kevin also made the decision to inspect the car for problems and fix them in order to make it as safe as possible for Jada because her birthday wasn't for another few weeks.
However, he uncovered a unique discovery in the process.
But when the deal was done, he went through the car and discovered a letter in the glove box. It was addressed to Kevin specifically and eventually brought tears to his eyes.
The envelope of the letter reads, "Important Info Inside."
Duke opened the envelope, and inside was a handwritten letter from the car's previous owner. The story she told was so touching that Duke had to share it on Facebook.
"I bought my daughter, Jada, a used car a couple of weeks ago. Since she doesn't turn 16 until March, I'm driving it to see if there are any kinks to work out before I give it to her. Well, yesterday I'm in it tinkering around and I open this storage compartment on top of the dash (which I've opened a half dozen times already). This time I notice a rubber mat in the bottom of it and for whatever reason, I pull it out. To my surprise, I find this envelope with this letter inside."

"I won't lie, I shed a few tears."
Kevin ended his post with these heartfelt words. Just by reading his post, you'll know that the letter contains an emotional message. Even he got affected by it. It's a good thing that he posted a photo of the letter and shared it on social media.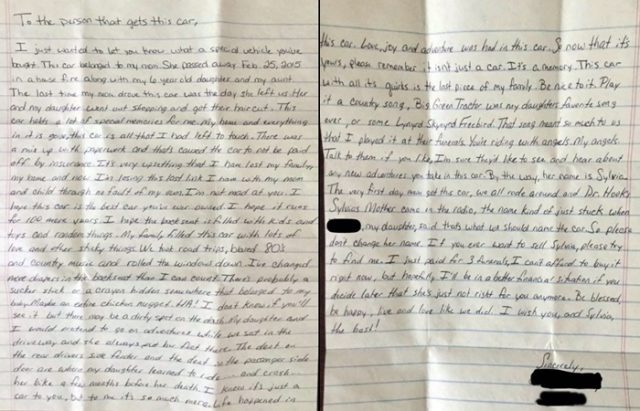 It turns out that the car's previous owner is named Sabrina Archey — her letter detailed a tragic life story that moved Duke, and many others, to tears.
"To the person that gets this car, I just wanted to let you know what a special vehicle you've bought. This car belonged to my mum. She passed away Feb 25, 2015 in a house fire along with my 6 year old daughter and my aunt. The last time my mum drove this car was the day she left us. Her and my daughter went out shopping and got their haircut."
Sadly, Archey had to get rid of her mom's car after a mix-up with some insurance paperwork. It was a heartbreaking decision for her.
"This car holds a lot of special memories for me. My home and everything in it is gone, this car is all that I had left to touch. There was a mix up with paperwork and that's caused the car to not be paid off by insurance. It's very upsetting that I have lost my family, my home and now I'm losing this last link I have with my mum and child through no fault of my own."
The last thing Archey wanted to do was sell the car, but she wanted the new owners to know there are no hard feelings. She merely wanted them to understand how unique it was.
"I'm not mad at you. I hope this car is the best car you've ever owned. I hope it runs for 100 more years. I hope the back seat is filled with kids and toys and random things. My family filled this car with lots of love and other sticky things."
As if this weren't heartbreaking enough, Archey continued by sharing some of her most treasured experiences had while traveling.
"We took road trips, blared 80s and country music and rolled the windows down. I've changed more diapers in the back seat than I can count. There's probably a sucker stick or a crayon hidden somewhere that belonged to my baby. Maybe an entire chicken nugget. Ha!"
She advised the new owners of the car, which was called "Sylvia" and was named after the song "Sylvia's Mother," to treat it with respect.
"Love, joy, and adventure was had in this car. So now that it's yours, please remember it isn't just a car. It's a memory. This car, with all its quirks, is the last piece of my family. Be nice to it. Play it a country song, 'Big Green Tractor' was my daughter's favourite sound ever or some Lynyrd Skynyrd's 'Freebird'. That song meant so much that I played it at their funerals."

You're riding with angels. My angels. Talk to them if you like, I'm sure they'd like to see and hear about any new adventure you take in this car. Be blessed, be happy, live and love like we did. I wish you, and Sylvia, all the best!" the letter ends.
Since Duke's Facebook post became viral, Archey eventually responded in a comment.
"I can't say it enough, how amazing Kevin truly is. He did not have to let me know that he found my letter. He didn't have to share our story here. He was touched very deeply, as most of u have been, and felt like he needed to share my letter for the message that it was meant to convey. Please don't be upset with him for having Sylvia. I know in my bones that if he was able to give me the car that he would in an instant. It's not easy to buy a car. He just got lucky and got this one," she wrote on the Love What Matters page.

"Give your babies extra lovins, call your mom and go visit your grandparents if u still have them. Tomorrow is not promised! And again, thanks to all of u for your support!!!" Archey urged everyone.
Sources: Taphaps, Opera, Yoursportspot