After a number of crimes in Family Dollar stores happened recently, Family Dollars stores in the St. Louis area put up self-made signs asking customers to remove their hoods before entering their shops.
In the past few weeks, several Family Dollar stores have been the center of crimes, including a robbery at gunpoint and a man firing a gun in a store.
The management of a Family Dollar in St. Louis has found itself in the public spotlight after posting a sign that makes one small request of their customers before entering the store.
The sign sparked a firestorm with cries of racism and discrimination that eventually led to the sign being removed.
The signs, posted near the entrance, read, "Attn Customers: Please remove hoods before entering Family Dollar."
According to The Daily Caller, "For the objective and unbiased thinker, the reasoning behind the sign makes perfect sense. It ensures that everyone who enters the store is intent on following the rules, knowing that the cameras can get a clear shot of their face."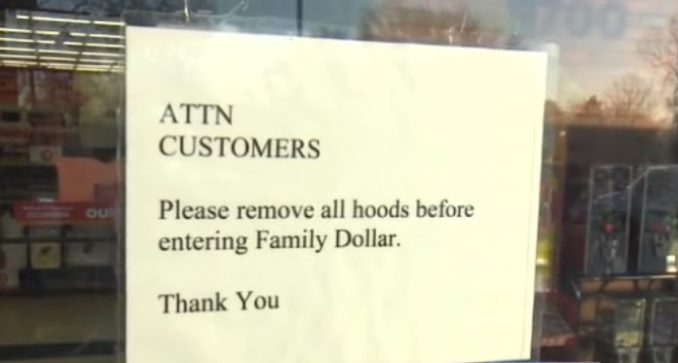 St. Louis News 4's Jasmine Huda interviewed multiple Family Dollar shoppers to get a better sense of how the local customers feel. Some agreed with the policy, saying, "They want people's faces to be seen by the cameras. And sometimes when you have on a hood, it might block your facial view."
Frequent and recent robberies took place at the chain store's nearby locations. So, you can understand why they would have put up such a sign.
In the weeks before the sign was placed in the store window, a clerk at the Family Dollar on South Jefferson was held at gunpoint during an alleged robbery. During a separate incident at Family Dollar's South Grand location, a man opened fire.
However, not everyone felt the sign was a reasonable security request because of the sign's "discriminatory undertone."
When asked his thoughts on the sign, customer Roger Williams explained, "I would call it discrimination. That's not right. It shouldn't matter that you're going in there with your hood on. If you're not stealing, and you're buying, purchasing something, what's the problem? That shouldn't be an issue."
Family Dollar headquarters responded to the matter, saying they were unaware of any signs. Public & Media Relations Manager Bryn R. Winburn of Family Dollar said, "It is not Company policy to ask our customers to remove hoods or sweatshirts before entering our stores." 
The retail chain has also launched an "internal investigation" into the matter. The store removed the sign on account of the public outrage.
The sign applies to everyone. If you believe the sign to be discriminatory, then you must assume that only one race of people walks in the cold with their hoods up. Perhaps there is one race that is more likely to wear hoods, but the rule applies to everyone regardless of their race, religion, or anything else.
Watch it here: LSUDVM/Youtube
Sources: TapHaps, DailyCaller