While driving with his girlfriend, a sudden accident happened that made a man booked into jail. The said accident left his girlfriend dead.
Mark James Wyler was charged with DUI, negligent homicide, improper lane travel, driving on a suspended Arizona driver's license, and an out-of-state warrant from Arizona relating to aggravated DUI. He's detained at the Washington County Jail Wednesday.
Tragedy struck when Wyler misjudged a turn on the dirt road. The SUV rolled off the road and fell about 200 feet into a ravine, ejecting Perez from the vehicle. Wyler blacked out from his injuries and didn't come to until the following morning around 5 a.m., Fox13 reported. As he looked around, he realized what happened. Then, he found his girlfriend on the ground outside the vehicle.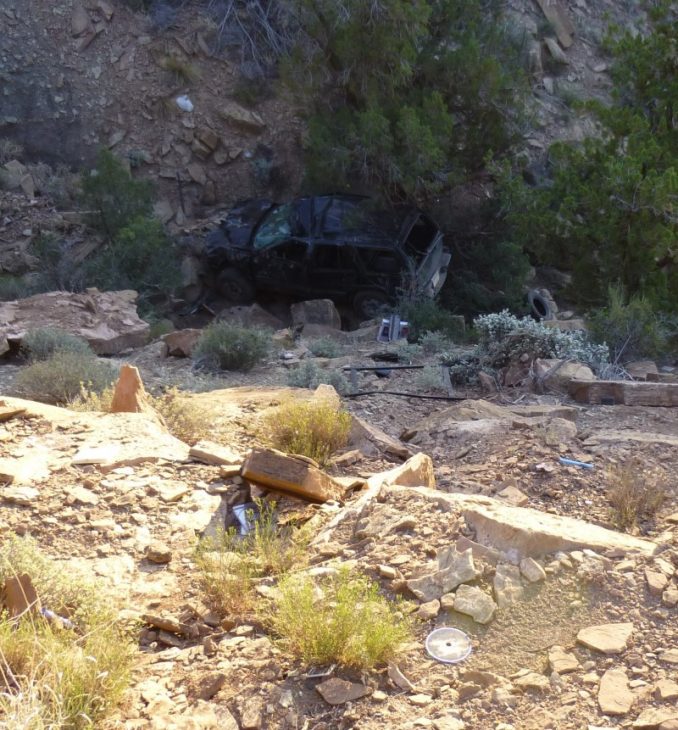 Mark Wyler, who had been driving on a suspended license, felt Cierra Perez's body which was cold to the touch, and he realized that she had died. But, before calling the police, he popped open a couple of beers, which he had in the SUV. Wyler tossed back some cold ones as if it was a casual afternoon on the porch and his girlfriend's dead body wasn't in sight.
According to the document, Wyler then, "drank some of the alcohol before going to find cell service to call 911." Wyler told dispatchers he believed his girlfriend was dead, and medical personnel confirmed her death after arriving at the scene.
A statement of probable cause indicates police responded to the crash around 6:20 a.m. Monday, and the vehicle had gone into a ravine and traveled about 200 feet from the road while moving about 100 feet below the elevation of the road. The crash occurred near Toquerville Falls on Toquerville Road, which is a narrow, one-lane dirt road with no safety devices like guardrails.
Cierra Perez, 20, suffered fatal injuries in the crash and was found nearby the vehicle, which the officer said appeared to have gone off the road at a sharp curve. Wyler told the officer it was dark and he was driving too fast to negotiate the curve.
"I guess the dispute is over jail time. A young lady was tragically killed in this accident," Deputy County Attorney Ryan Shaum said. "In a case like this, we would normally ask for up to the maximum time in jail, which would be a year in this case. I have spoken to the mother of the victim and she obviously does not want that to happen."
Wyler was hospitalized after the crash and police said a portable alcohol content breath test wasn't immediately given to him. By the time one was administered, no alcohol was found in Wyler's system.
But the report says Wyler admitted drinking about 9 p.m. Sunday and witnesses told investigators he was drunk at that time. Empty alcohol bottles were found on the mountainside where the car crashed and are believed to belong to him, according to the court documents.
According to the Spectrum report, Perez's mother's pleas for the court to take it easy on the man who was ultimately responsible for killing her daughter — after the mom even paid his bail. She even hoped to have the auto homicide charge dropped altogether. "I really ask you to please not send him to jail," Christina Perez told the court. "He's got a lifetime of punishment he's going to be giving himself."
"It should have never been able to drive off the lot. It didn't pass a safety inspection. (The dealer) let her take it, and two weeks later they had her take it back in," she said.
"It would shake really bad when you were driving it and it pulled to the side. And I was so mad at her for getting that car," she said, her voice quaking.
"And I do believe that that had a part to do with the accident."
Perez said even though Wyler "isn't perfect," she didn't want him to face criminal charges or have to continue blaming himself for the crash.
"If I have any say in it at all, I really don't want him to go to jail. … I just really want to thank him for loving my daughter and for treating her like a queen because she had struggled with self-esteem issues," Perez said. "I wanted to pay his bail to get him out and I was so thankful that he was able to be out and be to her funeral."
Lastowski said he asked the prosecution to include a requirement in the plea deal that Wyler get a mental health evaluation and treatment to help him cope with feelings of guilt. He also said he trusts the Utah Highway Patrol's ability to investigate accident scenes but was concerned the troopers didn't put more effort into checking the background of the vehicle, and that the prosecution hasn't done more to investigate the dealership that sold the vehicle.
Shaum said he hadn't heard any concerns about the vehicle prior to Thursday and noted Wyler's statement acknowledges there was alcohol in the vehicle.
Sources: Taphaps, Fox13, The Spectrum.com, Archive, Deseret News