A sign in a store window stirred up racial tension in Flemington, New Jersey this week.
According to NJ.com, the sign in the window of Jimbo's Deli on Main Street says "Celebrate your white heritage in March, White History Month."
Jim Boggess, the owner of Jimbo's Deli says, "No matter what you are — Muslim, Jewish, black, white, gay, straight — you should be proud of what you are. I shouldn't have to feel bad about being white."
However, Bhakti Curtis, a bi-racial neighbor, said he couldn't believe what he was seeing, He said the sign is "mocking Black History Month," especially the way the T was crossed in "WHITE."
Bhakti Curtis said, "The 'white' had a cross. It was a cross 't,' which is used by the Ku Klux Klan as a symbol, right."
The "t" Curtis said originally looked like a cross has since been changed into a capital "T," as reported by WCBS 880's Alex Silverman.
He confronted the owner, Jim Boggess when he saw the sign on March 3, but received no response. As a result, he filed a police report with the Flemington Police Department. According to Cpl. Louis Hribik's report, Curtis stated that the sign is "racist," that he felt harassed by it, and that he wanted to know what will be done about it.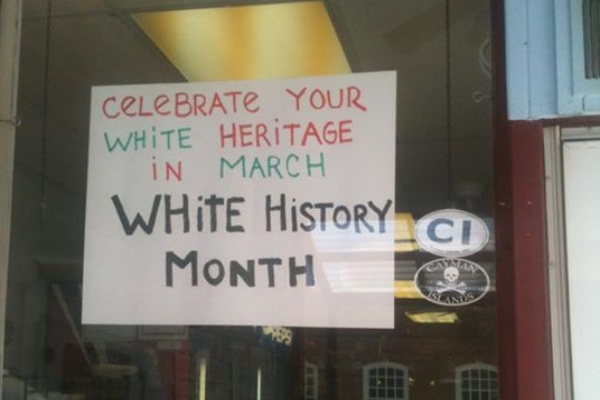 Curtis said, "A business can't go putting racist signs in the window because everybody has a right to go in that store,"  "Everybody! And have a right to buy something from that man and not feel demoralized or degraded."
Although Curtis said he is part white, even he has a problem with White History Month, "I'm black, Irish and Polish, but I look black. I grew up in a white family, and I love white people. I just hate racism," He said. However, the sign has been taken down and Boggess has apologized to Curtis.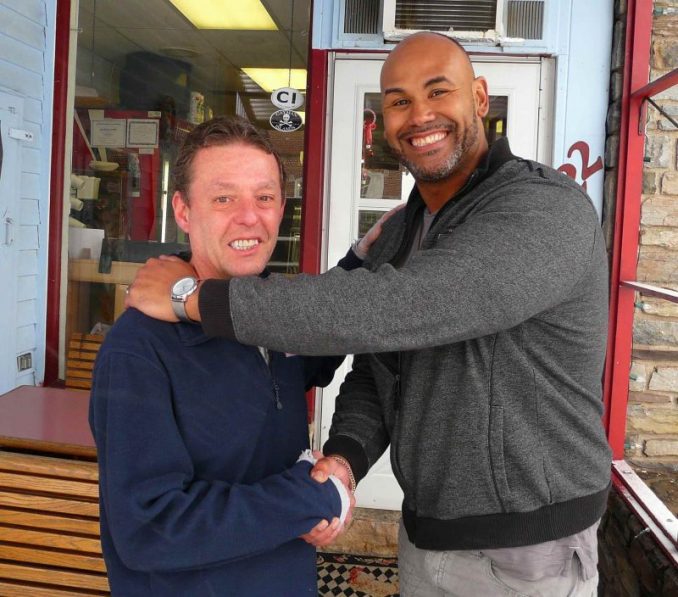 Jim Boggess and Bhakti Curtis pose for a photo showing that they have resolved their differences with an apology and a friendly discussion.
"I never meant it to be a black/white thing. I only meant it to be a white thing," Jim Boggess said.
Although Boggess received tons of supporting letters from all across the country, customers were no longer coming into his deli. He was forced to go out of business.
Watch it here:  Youtube/Rickey2b4
Sources: Taphaps, Nj, Nydailynews