When the honor of a fallen hero was at stake, a band of patriots on motorcycles refused to stand idly by, embodying the spirit of respect and selfless service that defines the true essence of America.
The sight of a group of bikers taking a stand against an unseemly injustice was a testament to the honor and respect that the brave men and women of our country deserve. Upon discovering that the ashes of a fallen Marine were to be shipped home to his grieving mother in a mere box, these bikers were struck by a profound sense of indignation. They knew they had to intervene.
Staff Sgt. Johnathan Turner, who bravely served seven tours in Iraq and Afghanistan, tragically passed away at the age of 41 due to combat-related issues. His mother, residing in Georgia, was unable to travel to California to retrieve her son's remains. The thought of this brave soldier's ashes being dispatched in an impersonal FedEx box deeply disturbed a group of bikers who believed he deserved a dignified return home.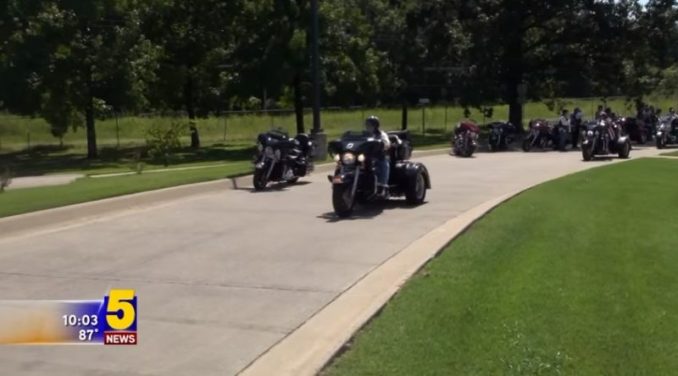 These individuals, part of the Oklahoma Patriot Guard Riders, embarked on a cross-state journey to ensure Sgt. Turner's remains would be delivered to his mother with the respect he deserved. "We did not want him to go home in a FedEx box," said Captain David Noble. This sentiment resonated with all the riders who joined this noble cause.
Participants such as Asha Lamy undertook long journeys to be part of this significant mission. "I need the family to know that you are not alone and we care," she said, reflecting the collective sentiment of the group. They wanted to show the bereaved family that they were not alone in their grief.
As Sgt. Turner's ashes traveled through Arizona, New Mexico, Texas, and finally into Arkansas, a heartfelt ceremony was held in his honor. The tough exterior of these bikers belied their compassionate hearts, committed to honoring the memory of this fallen hero.
Norm Breth, Road Captain of the Patriot Guard Riders of Arkansas, declared during the ceremony, "It will be an honor and a privilege to escort him on his journey home." This sentiment exemplified the respect and gratitude our brave servicemen and women deserve.
As Sgt. Turner's remains were securely transferred to the Arkansas Patriot Guard Riders, they pledged to complete this mission and bring him back to his mother's arms, offering her the solace of knowing her son was finally home.
The remains were then passed to the Tennessee Patriot Guard, who spent the night in Memphis before passing them onto the Mississippi Patriot Guard. Eventually, it was Wayne Markham of the Patriot Guard Riders of Georgia who had the honor of presenting Sgt. Turner's mother with her son's ashes.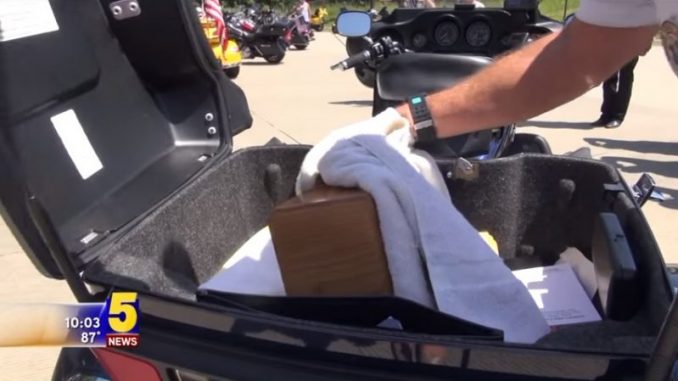 The story of Staff Sgt. Johnathan Turner's final journey home is a testament to the selflessness and honor of these riders. They understood that those who fight and die for our country deserve respect and dignity, even in death. Their final act of kindness for Sgt. Turner, who made the ultimate sacrifice for his country, was a powerful demonstration of the deep respect we should all have for our servicemen and women.
This is the America we hold dear – a country where patriots honor and respect the brave individuals who selflessly serve our nation. These acts of kindness and respect should transcend political and personal beliefs, reminding us of all of the sacrifices made by our military personnel. The Patriot Guard Riders deserve our applause for their honorable deed and Sgt. Turner, may he rest in peace, deserves our eternal gratitude.
WATCH the video below:
Sources: Taphaps, KFSM 5 News