A Florida teacher was reassigned after a quiz question allegedly referred to President Donald Trump as an "idiot."
Watson B. Duncan Middle School teacher in Palm Beach Gardens recently gave a quiz asking kids to identify the "45th Pres; 2017; Republican; Real Estate businessman; Idiot," NBC affiliate WPTV reported.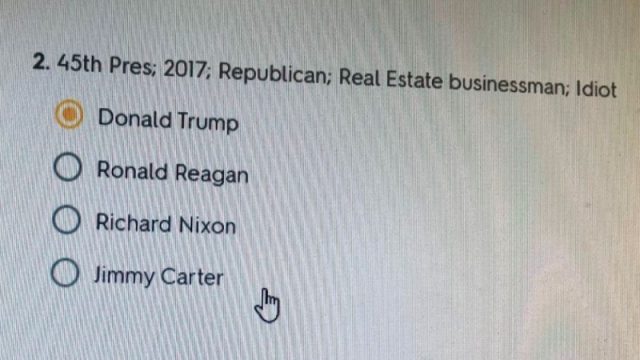 The choices were Ronald Reagan, Richard Nixon, Jimmy Carter, and Trump.
The 45th president, Trump, took office on Jan. 20, 2017, is a Republican and was a New York City real estate developer before his White House run.
In a press release from the district, officials say the quiz was not created by the teacher. The teacher says she downloaded the quiz from a study application called Quizlet.
Watch it here: WPTV News/Youtube
The teacher said she did not carefully review the questions before giving students the quiz.
The district says that even though the teacher didn't write, or intentionally select the question, they believe it's a display of unprofessional behavior and has "disciplined" her.
In a message to parents of students who took the quiz, Principal Phillip D'Amico said, "I apologize for this unintended incident and for the offensive verbiage used in the question. Thank you for understanding the time involved in conducting a thorough inquiry into this situation. I appreciate your continued support of Watson B. Duncan Middle School."
This apparently didn't sit well with at least one student who showed their dad the question that was included on the quiz. The parent, who asked to remain anonymous, then approached school administrators about it and issued a complaint, The Boca Raton Tribune reported. "It is an obvious example of indoctrination in our school systems, where teachers are forcing their opinions on our children," the parent said, admitting that he was very disappointed.
After hearing the parent's concern, Principal Phillip D'Amico sent a letter to Watson B. Duncan Middle School's parents. In his letter, Principal D'Amico acknowledged the inappropriateness of the question and reassured the community that it was being investigated. "A question on a quiz given by your child's Computer Applications teacher yesterday was brought to my attention this morning," he wrote in his letter to parents. "The question was inappropriate and demonstrated an unacceptable lack of good judgment on the part of the teacher."
Principal Phillip D'Amico assured parents that something would be done about it. "An investigation is now underway, and the teacher has been reassigned during this process," he explained. "Because this is an open inquiry, I am not at liberty to share any additional details with you at this point. I apologize for this incident, and for the offensive verbiage used in the question. Thank you for your patience, and your continued support of Watson B. Duncan Middle School."
CNN reported that the school district said that the teacher, who was not identified, remained employed with the district pending the outcome of an internal investigation and was reassigned to work in a place that does not involve contact with students.
This leaves many wondering what's the point? If the teacher can't have contact with the students, they can't teach. Therefore, why should taxpayers, who fund our public schools, continue to pay them?
Since this is a personnel issue, it's unlikely that the final outcome of the investigation or any further disciplinary action taken against the teacher will ever be revealed to the public. Instead, parents are expected to trust that the situation was handled — just like they trusted that a teacher would educate their child using facts, not their personal opinion. And, that didn't happen, did it?
Parents are making sure that they thought good things to their children inside the home not knowing that the people they expect to continue this in schools were the one who's ruining it. Regardless of your opinion of Donald Trump, we should all agree that name-calling isn't acceptable behavior, and we shouldn't tolerate teachers setting a bad example and making our kids think it's okay.