It was supposed to be the start of a new chapter in the lives of Mike and Rachel Brumfield, a young couple who were about to embark on their honeymoon. But things took an unexpected turn when they boarded their United Airlines flight from Newark Airport to Venice, Italy.
As they settled into their seats, Mike and Rachel noticed something strange happening outside the plane's window. Fuel was leaking from the edge of the plane's left wing, and it wasn't just a small leak – it was gushing out like a fire hose.
Mike and Rachel quickly alerted the flight crew, but their concerns were initially dismissed. The crew told them to sit down and insisted that everything was normal, despite the fact that fuel was pouring out of the plane's wing.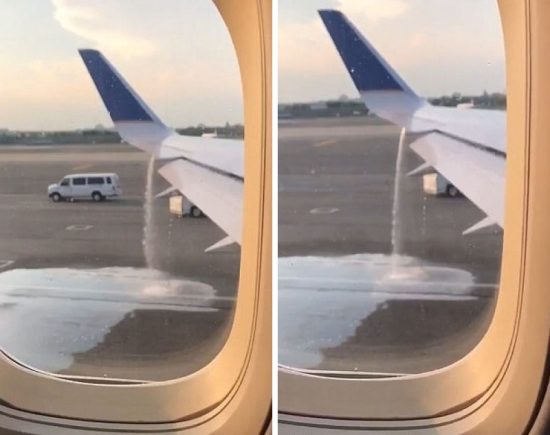 Undeterred, Mike persisted and insisted that something wasn't right. When the crew finally looked out the window and saw the fuel leak for themselves, they immediately rushed to the cockpit and shut down the plane's engine. Fire trucks rushed towards the plane, and the passengers were evacuated to safety.
Mike and Rachel's quick thinking had likely saved the flight from disaster, but their ordeal was far from over. The couple found themselves stranded by the airline, and their treatment left them shocked and upset.
While other passengers were placed in a hotel overnight and given food vouchers, Mike and Rachel were left to sleep on the floor of the airport. They never received a hotel room, and their luggage was lost. They were supposed to be starting their honeymoon, but instead, they found themselves in a nightmare.
Mike took to Facebook to express his frustration with United Airlines, posting a photo of Rachel curled up on the airport floor.
"We saved your United Flight 170 from possibly crashing into the Atlantic, you praised us, saying you'd take GOOOOD care of us, then canceled the flight and disappeared," he wrote. "Every hotel booked. And they have no idea where our luggage is and don't seem to care. We're supposed to be in Venice right now, starting a romantic day. But, luckily, several United Airlines employees have been super rude to us, so at least there's that!!"
Mike and Rachel eventually managed to book a last-minute Delta flight, but they received no help or support from United Airlines. They slept on the floor of the baggage claim area until a fellow passenger gave them a hotel voucher.
The experience left a bitter taste in their mouths, and Rachel vowed never to fly with United Airlines again. But despite the terrible start to their honeymoon, the couple remained positive. They later announced on social media that they were expecting their first child, and they refused to let the experience dampen their spirits.
United Airlines issued a statement about the incident, but it did not address Mike Brumfield's claims. They apologized for the inconvenience caused by the fuel leak and said they were working to get passengers back on their way to Venice.
The story of Mike and Rachel Brumfield is a cautionary tale about how not to treat paying customers. The couple's quick thinking had saved the flight from disaster, yet they were left stranded and abandoned by the airline. It's a reminder that airlines have a duty of care to their passengers, and that treating them poorly can have serious consequences.
WATCH the video below for more details:
Sources: Taphaps, New York Post