Wheel of Fortune may appear to be a deceptively simple game when you watch it from your couch. To solve a puzzle that is displayed on a huge board, competitors need only spin a wheel and guess the letters. Being a contestant, however, is a completely different experience. Even the simplest puzzle can be stressful to solve when Pat Sajak, Vanna White, and the entire studio audience are present.
Due to extreme pressure, the show frequently suffers from mistakes that seem to be impossible to make. Who can ever forget the time a contestant incorrectly identified the answer as "Wish List" when it was actually "Fish Love"?
Avid fans of the game show are used to watching contestants struggle as they shout the answer at their television screen. The latest episode, however, was especially frustrating. –It even comes what is being called the "dumbest moment ever" in the TV game show's history!
According to the Newyork Post, "The frustrating episode featured three contestants taking a whopping eight turns and 10 attempts to solve the puzzle: Another feather _n yo_r _a_"
Despite only missing four letters, all three contestants struggled to solve the puzzle "Another Feather In Your Cap" for a painful 2-minute period of the episode. Wheel of Fortune fans from all over the country took to the internet to express their distress and disbelief after finding the scene intolerable.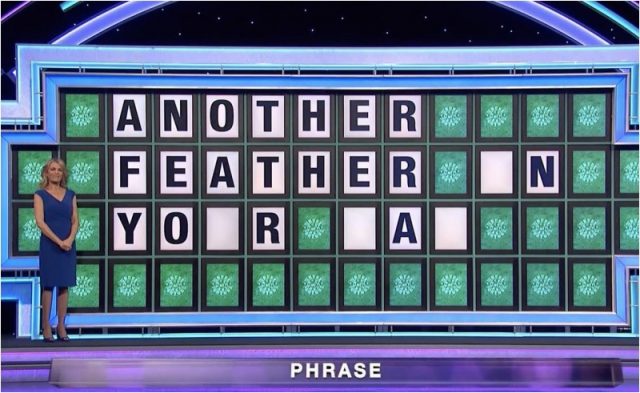 The expression "another feather in your cap" is thought to have originated from the common practice of a warrior adding a new feather to their headgear for each enemy killed.
As host Pat Sajak and renowned letter-tuner Vanna White watched, viewers were venting at contestant Laura Machado, who only needed three correct guesses to win. The Post report added, "fellow contestant Christopher Coleman didn't guess any of the correct letters and landed on Bankrupt when he twirled TV's most infamous wheel.
Machado's frustrating incorrect answers included "Another feather in your hat," "Another feather in your lap," and "Another feather in your map." Thomas Lipscomb's first two times in the hot seat also resulted in a Bankrupt and a Lose a Turn. However, on his third attempt, he correctly solved the phrase by guessing "C."
Wheel of Fortune fans across the country took to the internet to express their distress and disbelief with one fan wrote, "Hey, if you feel like screaming at the TV in agony and want to throw something at your screen, round 2 of tonight's Wheel of Fortune is *perfect* for you." Another says, "This might have been the worst two-minute stretch in Wheel of Fortune history."
The Frozen actor Josh Gad added his two cents via a tweet that read, "God help us all."
Another viewer said, "I have never been on an emotional roller coaster like this while watching 'Wheel of Fortune,'" Twitter user said.

User  "WheelRob" tweeted, "I'd like to solve… ANOTHER FEATHER IN EVERYTHING BUT YOUR CAP. Thank you, Wheel, for not editing out 6 of these 8 lost turns in a row like you normally would."

"I don't think we appreciate as much as we should the fact that @patsajak and @TheVannaWhite are national treasures. Legendary restraint was displayed in this @WheelofFortune clip. Truly . . . a feather in their cap," Former FCC chairman Ajit Pai wrote on Twitter.

One even suggested that the game "should have ended this 'Wheel of Fortune' episode with no winner."
The video shocked viewers as well, prompting the website Mediate to write, "PAINFUL: We were reminded Tuesday night why America is in decline during a display on @WheelofFortune when contestants took over two minutes to solve an obvious and rudimentary puzzle," and that seems to sum it up perfectly. Sadly, this game show contestant seemed to demonstrate how "common knowledge" is vanishing, just like common sense.
Watch the video below:
Sources: Taphaps, Nypost, Teenvogue