The Forest Hills mom found dead in a hockey duffel bag spent some of her final hours puttering around her yard and enjoying a night out — before video caught a mysterious figure lugging her makeshift casket down the street.
As of this writing, Police have no suspects in the murder of a New York mother of two whose body was found about a half-mile from her home near a popular walking path in a residential neighborhood.
The body of Orsolya Gaal, age 51, was found around 8 a.m., Saturday, April 16, in Forest Hills, Queens, by two walkers in the area after a blood trail led to her home at 72-24 Juno St., said the NYPD on Monday, April 18.
Now the family, a father, and two teenage sons are living in terror after the killer reportedly texted Gaal's husband, Howard Klein, using her phone after the crime saying it was revenge for her sending him to jail years ago and "your whole family is next."
It is unclear what incident in the past the person was referring to in the text message.
Watch it here: CBS/Youtube
The couple's 13-year-old son, Leo, who is thought to have been in the house at the time of the crime, was questioned by police and released.
Klein, an equities advisor, and the couple's oldest son Jamie were out of town visiting colleges when the murder occurred in the basement of the family's upscale, Tudor-style home.
Police believe Orsolya went out for the night on Saturday, possibly with a man, then returned home. She was killed inside the basement of her home and then was dragged out in the bag, they say. Unnamed sources told PIX11 that she had told her son she was going out with friends but was in fact with another man.
Gaal spent some of her final hours in her yard and enjoying a night out — before video caught a mysterious figure lugging her makeshift casket down the street.
After she was murdered, police believe the killer used her phone to text her husband and say 'your whole family is next'.  
PIX11 cites sources who say the killer also told Howard: 'Your wife sent me to jail some years ago. I'm back'.
Cops took Gaal's 13-year-old son away in handcuffs, only to release the boy after determining he had no knowledge of the crime. Cops questioned the boy as they sought to identify how the mother spent her last hours with him. 
Neighbors said Gaal was a dedicated mother who was in the process of planning the 13-year-old's 'coming of age' bar mitzvah.
Watch it here: PIX11News/Youtube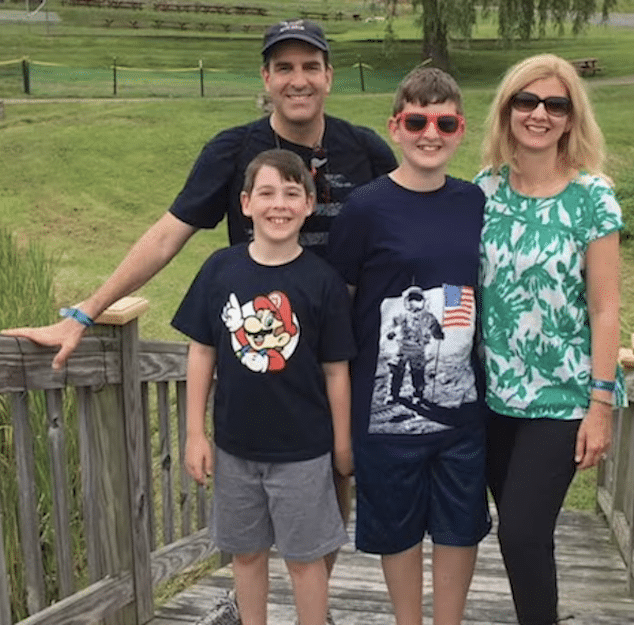 Surveillance footage also emerged showing someone in a hoodie wheeling the bag near her home at around 4.30 am. The bag is similar to the one used by her 13-year-old son and could have been taken from the home by the killer.
Her husband's LinkedIn account identifies him as the founder of RK Equity, and as a trader of lithium, a metal used to power electronics.
He attended Hewlett High School in Nassau County on Long Island, LinkedIn says.
The NYPD says at this time they have no suspect in the case and no arrests have been made.
This is a developing story.
Sources: Scallywagandvagabond, PIX11