One of the highlights of a student's life is graduation day, and for parents, it is undoubtedly a joyous occasion. While most parents would take time off of work to be present for important events in their children's lives, particularly their graduation day. One graduate, however, has never felt the pride of his parents in his accomplishments because they never went to his graduation, even when he was still in elementary school.
Rivas posted a short story of his life leading up to his graduation ceremony on Facebook, and he briefly felt crushed since his parents once more chose to miss an important occasion in his life.
As the recipient of the Criminology Service Award, Jeric R. Rivas recently received his Bachelor of Science in Criminology from La Concepcion College in San Jose Del Monte, Bulacan. However, despite his recent achievement, Jeric couldn't help but weep bitterly because his parents once again skipped his graduation, as they had been doing ever since he was a student in elementary school. Being the first member of his family to earn a college degree, he was perplexed as to why they never encouraged him to pursue a degree.
Even back then, his parents didn't show up for his elementary school graduation in the Top 6 of the class on Sibuyan Island, Romblon.
Exactly the same thing occurred in high school. On his Recognition Day when he was given the Best in TLE award, his parents failed to appear. They skipped his graduation the next day as well.
He left his home province in search of a better life, thinking that his relatives might be able to assist him, but no one would take him into their homes. Jeric ultimately ended up residing in the houses of his professors and receiving assistance from kind teachers with his food, lodging, and educational needs. He also held side jobs, working as a "kasambahay," member of a fast food restaurant's serving staff, a janitor, and a student helper at his school.
Jeric believed his parents would finally attend his college graduation, despite the fact that they had consistently rejected him since he was in elementary school, but they never showed up. He waited in vain at the Philippine International Convention Center on April 14 for his parents to show up and watch him graduate from college.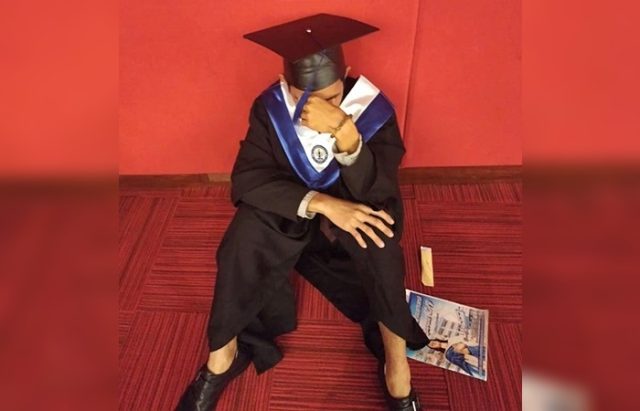 He tried to glance around for his parents but all he saw were the smiling faces of his fellow graduates and their proud families, he could not help but cry.
Jeric could not help but take pity on himself.
When his name was called and he had to walk up the stage by himself, he sobbed even harder because his parents had let him down once more.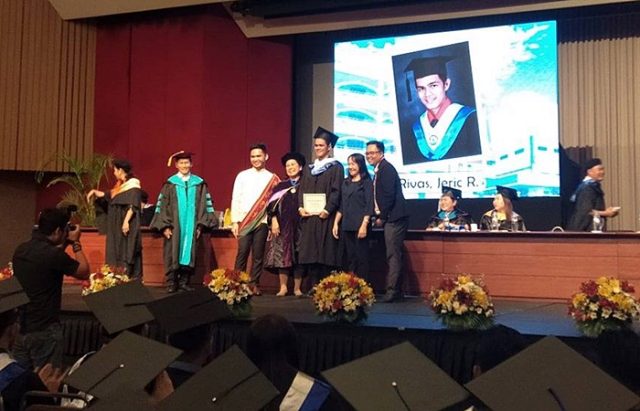 Jeric admitted that he cried loudly and did not care what the other graduates felt seeing him cry on stage.
However, as he slowly stepped up to the stage, his professor who cared about him accompany him to the stage, and his supportive professors hurried to march with him and even assist him in receiving his award.
Rivas hugged one of them, saying how it really helped him calm down and feel relieved. Rivas is loved by the professors because he is a diligent and kind student with good grades.
And as he went down the stage, several of his fellow graduates shook his hand. Many netizens would soon cheer him up.
Rivas then ended his post, saying:
"Sa magulang ko , na hanggang ngayon di parin nila ako matanggap sa buhay nila ito napo ako ngayon,, thank you dahil jan graduate na ako…."

"To my parents, who up until today could not accept me in their life, if you're reading this, this is me now and I hope I made you proud…"
What obligations do parents have? Most people would agree that parents should give their children food and shelter. Additionally, they must provide for their education, which is frequently inexpensive or even free in many nations. Nevertheless, despite providing for all of those needs, a lot of parents still fall short in providing for the final one: love.
If given a healthy diet, children do grow up well. However, how the parents treat them during all of those periods will have a significant impact on whether or not the youngster grows up to be a content, healthy, and productive adult. Because they form their personalities, consciences, and judgments by observing the people they spend the majority of their time with, children require a lot of love and care.
There are many children who remain neglected and Jeric r. Rivas is just another sad example of that but the most important thing is that Rivas doesn't give up his dream. No matter what obstacle he faces, he remained strongest and that's what matter the most.
Sources: Taphaps, Godupdates, Legit