For years, Alameda County Sheriff's Deputy Jacob Swalwell had seen an older man begging drivers for money at one of the city's busiest freeway off-ramps. He had planned to write the man a ticket, but when he asked to see some ID, the conversation took an unexpected turn.
"It's a safety issue, and that was more of a concern than the panhandling," said Swalwell, he said that had seen Michael Myers for days at the same intersection at Mattox Road and warned him over his police address system to move along. Myers, 67, is a fixture near the ramps of Highway 238, where he panhandles to buy fast food and describes himself as "alone as a person could be."
But one day after repeat encounters with Myers, Alameda County Deputy Sheriff Jacob Swalwell had a serious talk with him.
"I had given him so many warnings," said the deputy, who multiple times had seen Myers and warned him about panhandling near a busy freeway on Foothill Boulevard in Hayward.
Swalwell asked him for his ID but was stunned by the answer.
"And I asked him for his ID and he said he didn't have an ID. And I immediately asked 'Why don't you have an ID?'" recalled Swalwell.
At that point, the 67-year-old former truck driver and the 33-year-old deputy started up a conversation.
"He was not an alcoholic, he did not use drugs. He did not use tobacco," remembered the deputy.
The deputy asked Myers why he was not on social security.
"I said, 'I can't get it because I can't even get an ID,'" he explained.
"He was a senior citizen. I learned more that he was disabled and had been homeless for 30 years." remarked the deputy.
Myers still remembers what Deputy Swalwell told him.
"'Well, you've got somebody to help you now. I'm going to help you get your ID so you can get your social security and get off the street,'" recalled Myers about what would become a life-changing conversation.
Swalwell found out that an accident had left Mick, a former truck driver, disabled. The accident had broken his back that made him in a wheelchair for a year and another on crutches. This made him no longer able to drive tracks anymore, despite this he still attempted to work in manufacturing and food service, but being on his feet and lifting caused too much pain. "When you have a serious broken-back injury, you never really recover from it," Mick said.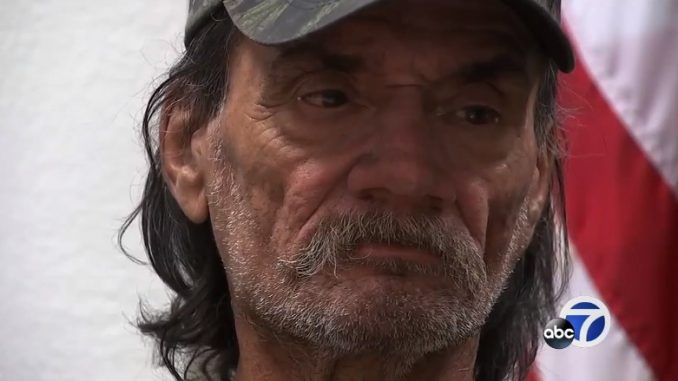 To get benefits, Myers needed a state-issued ID — something he hadn't had in years, since he stopped driving. Instead of a ticket, Swalwell offered him a ride to the DMV, where they quickly encountered the next in a long series of hurdles.
"I'm no longer in the system," Myers said. "I don't exist anymore according to the DMV."
To get a California ID card, Myers needed proof of residency and a birth certificate — both difficult things to get for someone who lives on the streets and never knew his biological parents.
Swalwell agreed to help him get the documents: first, a letter from a church attesting that Myers does, in fact, reside in Hayward, and then a copy of his birth certificate from Highland Hospital, where he was born. The latter came with a surprise. "I get my birth certificate and it says my name is Gordon Michael Myers!" he said, still incredulous about the first name he never knew he had.
After three trips to the DMV, Myers was finally issued a California Senior Citizen ID card, and held it up proudly with Swalwell in a photo that quickly spread globally on Facebook.
Swalwell, who is the brother of U.S. Rep. Eric Swalwell, said he learned a lesson.
"Each person has their own individual story," Swalwell said. "You realize they are a person too. Mike has taught me a lot.
"This is the first chapter. I plan to get a resource to help him get disability service."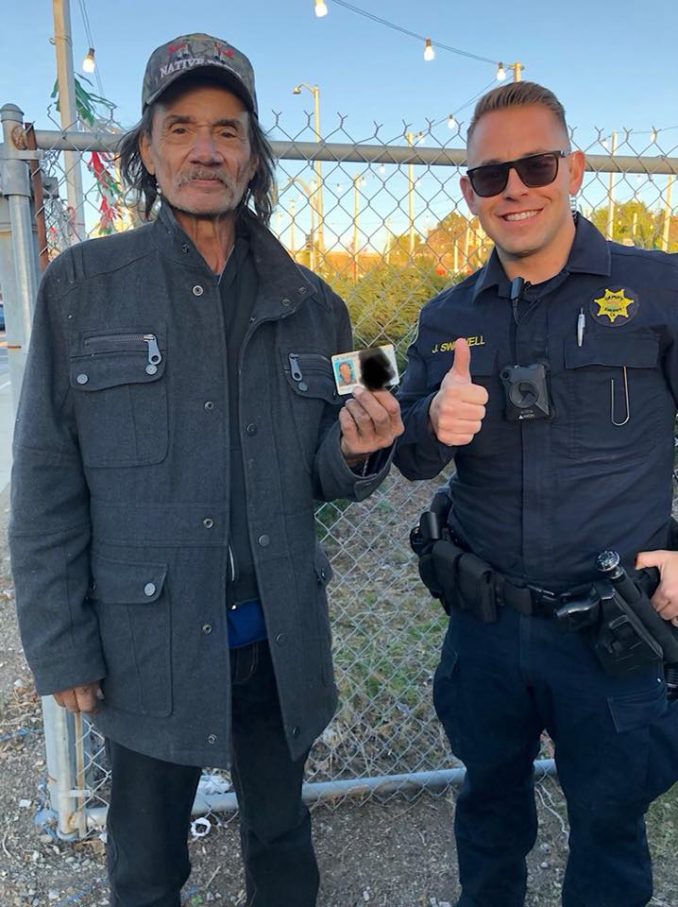 Sgt. Kelly said Myers will continue to go by his nickname of "Mick" but his identification card now says "Gordon Michael Myers."
Watch it here: KPIX CBS SF Bay Area/Youtube
Sources: Taphaps, ABC7 News, East Bay Times, Yahoo News, San Francisco